CGSSA 14 Event – Monthly Shoot LAX Range – Wed, January 8th – LA/South Bay/WLA
http://www.calguns.net/calgunforum/showthread.php?t=873334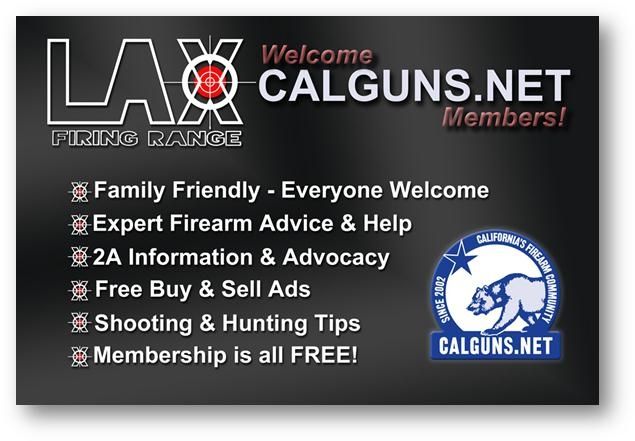 Sorry for the late notice! Work and being sick has had me on a down cycle for a while!
Hello Everyone! It's time to warm things up with our monthly W. LA / South Bay LAX Range Shoot!
It's that time again, time for the monthly W. LA shoot @ LAX Range!
Raffle tickets, check!
Date/Time confirmed, check!
I'll have the Beowulf .50 AR as well as the usual AR Pistol Menagerie!
I'll see you guys on the range!
If you have any requests as far as something you want to try out for yourself or a friend, feel free to post in this thread!
This shoot is followed immediately by a migration to Roscoe's Chicken and Waffles for a late dinner, and the usual SGV Gun Clean-B-Que on 11 Jan 2014. PM for details!
– HappyCamper781/Jeremy
****
Join us at LAX Firing Range (not the airport) in Inglewood (927 West Manchester Blvd, Inglewood) on 1/8/2014 @ 7:00 PM. We're excited to team up with LAX, and they in turn have extended a discount of 10% off any in store factory ammunition not already discounted to all Calgunners.
Parking is limited, but don't fret parking is allowed at the car wash next door after hours, and there are always the lovely "safe" streets of Inglewood.
Please review the following details pertaining to the meet:
Pistols – The occasional double tap is acceptable (but if it's get's out of line the privilege will be taken away), no holstered pistols, no drawing from a holster, no open carry (all standard indoor range safety rules apply)
Rifles – High Powered Rifles up to a .30-06 are permitted with the use of range ammunition..
Shotguns – Shotguns are also permitted, again, only with the use of range ammunition.
Cost – $10.00, stay and shoot as long as you want!
*CalGunners get membership prices on factory ammo and rentals.
** LAX members are free to attend.
*** If you've never been to LAX you'll need to purchase a shooting card for $2. This is a one time fee for new (to the range shooters).
REMINDER: – When you're there, your actions represent the entire Calguns community. We should always take responsibility for our actions, and treat their facility with the utmost respect. Remember to unpack your firearms in the booth if at all possible! (Additional note, we've gotten a few internal Calguns comments regarding range etiquette, remember, this is a firing range, muzzle sweeping, and inadvertent violations of range rules are very very no bueno).
They'll be reserving several lanes for us on their main range, but we will have to share the range with other walk on shooters. If there are others present, I urge you to engage them in conversations about Calguns, and why you choose to attend these types of events. They have a huge "pro shop" with tons of items available for purchase as well as a couch and multiple TVs.
So, who's in? You know there is nothing better that you'd rather do on a Wednesday night than shoot some guns with fellow CalGunners!
P.S. If you're interested in volunteering your time and helping coordinate this shoot, or one like it in your area, contact myself or RoundEye for details.
Shoot Roster:
1) Happycamper781
2) pigpen66m
3) Exodus343?
4) pmrsino?
5) neubine?
6) abuckner?
7) 200apples?
8) ConcreteJungle – YAY someone who's sure!
9) funnybookz?
10) Kurus214?
11) ?